---
Latest News
Giving Tuesday Brings Out the UNselfishness in Everyone
The Messages Project created a "Give 5″ campaign as a partner in this year's Giving Tuesday celebration. Our supporters showed us how much they cared about our cause in pictures. View the photo gallery.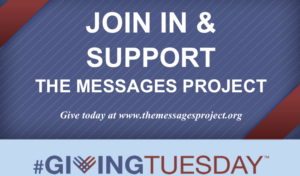 ---
Fundraiser in NYC Supports Children of Incarcerated Parents
The proceeds from a fundraiser held in Midtown Manhattan will benefit kids whose parents are serving time in prison. With the help of The Press Box, The Messages Project successfully promoted awareness about this disadvantaged demographic of children. Attendees donated children's books and cash for the cause. Read more.
---
Tagline Chosen to Depict Our Mission
With the help of many loyal supporters, The Messages Project was able to select a slogan that could accompany our logo to describe what we're all about. We hope this will make our organization more memorable and easily understood.  Read more.