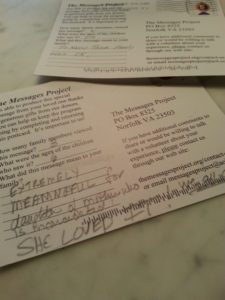 Has your family participated in The Messages Project program? We'd love to hear from you! Your input could be featured (anonymously) here on our site.
Please share your thoughts and encouragement by printing, completing, and mailing the form shown below.
You are also welcome to send feedback to us via email. We hope to hear from you soon.
Testimonials
"I am 17-years-old and when my dad went to prison, I was sad and depressed. I haven't seen him in a long time. When the DVD message and book arrived, I was emotional, but happy that I could see my dad. It felt like we were in the same room together. I really value the fact that I was able to see my dad and know he is okay and thinking about me daily. He looked good and I was able to see that myself. This is a great program!"
~A Message Recipient
"The Messages from Dad has helped restore my relationship with my little girl, send her my hugs, and without this, I wouldn't have had the opportunity to talk to her and tell her I love her. There's not a day that goes by that I don't think about her and she's my favorite person in the world. The Messages Project is touching many lives. May it grow and continue!"
~An Incarcerated Father
"I was incarcerated from 2007-2011. I had the opportunity to work with The Messages Project to make a video for my child. I am happy to say it was a great, yet emotional experience. It gave me and my daughter a chance to stay connected. She is now almost 11 and still remembers the video. It meant a lot to me to be able to express my love and feelings through your project. I thank you so much for the wonderful opportunity and I hope that the project continues to make an impact on other mothers and their children. My daughter is my inspiration and I think about all that time I spent away from her. Though I cannot replace time, I am moving forward and making amends. Thank you again for all the encouragement, the visits, and your wonderful dedication."
~A Formerly Incarcerated Mother
"Knowing that I love and care enough to do the videos for my children has encouraged them to do good and hope toward the future. It gives them hope for better days ahead. It comforts their hearts knowing I'm doing well and trying to come home. They take the video over to all the family members' houses and they all watch it over and over again together."
~An Incarcerated Parent
"This program has made a big impact on my children. It allows them to see and hear a personal message from mom. They cried tears of joy because they hadn't seen me in so long. I hope this program will continue to grow and allow more mothers and fathers to be 'at home' with their kids — so when they want to see us, they can watch the DVDs all year long."
~An Incarcerated Mother
"I've been in prison for 18 years and had no relationship with my children. Because of the Messages Project, I've started a relationship with them and my grandchildren. Thank you so much for the opportunity to send DVDs and books to my family. What you are doing really changes lives!"
~An Incarcerated Father
"I would like to personally thank you for your recent visit. The offenders were really appreciative of the opportunity to have such special contact with their children. I believe this project is very beneficial, and I would like to invite you to come again at your earliest convenience. The smiles I saw and the conversations I heard warmed my heart."
~Staff Member at Jess Dunn Correctional Center
"He loves receiving the messages so much. He loves reading the books (though he's too little to read on his own right now). But he looks like he does. His face lights up when we check the mail and he sees it's a package from Mommy. It makes him so happy. THANK YOU!"
~Grandmother of a Message Recipient
"I think this is a wonderful project for both child and parent. My daughter felt sad and confused and had school problems after her father went to prison; she had to be held back a grade. She is very happy to watch the Messages Project video, and it gives her comfort. Now she wants to read more. For me, the mom, I greatly appreciate the time and effort you put into these kinds of projects. I also enjoy the videos because they help us all and make being apart easier. Thank you so much."
~Mother of a Message Recipient
"My kids loved the DVD. It was amazing because I know it'll be filling that 'daddy hole' in their hearts caused by me not being there. My children can see and hear me say how much I love them. They've been wishing I could read to them at night, and this is huge for them that they'll have a bedtime story with daddy. Thanks to all who make the Messages Project possible."
~An Incarcerated Father
"My favorite thing about doing my Message from Dad DVD was the opportunity to be "Daddy" again and not just an inmate number. No matter what amount of time has passed between us, I want my daughter to know that I still love her and she remains one of my most important blessings in life. Thank you for giving us this rare chance to bond with our children!"
~An Incarcerated Father
"Whenever my little boy is down and out, my mother says he puts my video in and watches me read to him. Time after time, it lights up his life."
~An Incarcerated Parent
"Having these videos for my children is so wonderful. It's truly a blessing for them to have the DVD because when they miss me or are having a bad day, they watch it and it puts a smile on their faces. My mom said even my 16-year-old son watches it over and over, and my 9-year-old daughter loves it."
~An Incarcerated Mother
"The Messages Project recently allowed my brother to send a message to his children. My parents, sister, and myself give you many thanks for giving him this opportunity! His children LOVE it and watch it over and over again. Thanks again. This is a very awesome project!"
~Sibling of an Incarcerated Father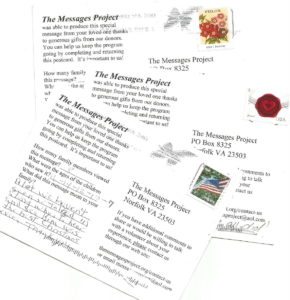 "My 9-year-old grandson always felt bad around Father's Day when other kids talked about their dads at school. He was depressed, anxious, and had school problems. He has never met his father because his mom was pregnant with him when his dad went to jail. Then she got depressed and also left. He suffers without his parents. Now from the DVD, he's happy to see he has a father. He feels more complete to know he's loved."
~Grandmother of a Message Recipient
"My grandson is 2-years-old, and I am so thankful for your program. I've shown him photos of his mother, but it doesn't compare to her in the video you sent. With it and the book he reads with her each day, he can 'be with' his mom any time. Much love!"
~Grandparent of a Message Recipient
"Thank you for providing the funds and volunteers to do the Oklahoma Messages Project for the children of inmates. My 4-year-old granddaughter loved having her Daddy send her a book and read to her. She kept saying 'I want to see Daddy again!' She's only 4 and has been without her dad since she was 6-months-old. This is a great gift to her!"
~Grandparent of a Message Recipient
"My nephew just turned 2, so he can't write. But I would like to say thank you for him. He loved the video Message of his mom and tries to read along with his book while she reads. We love what y'all do!"
~Aunt of a Message Recipient
"I'm grateful for all of you who volunteered your time for the Oklahoma Messages Project. I'm in a prison talked to and treated not in the best ways, and for 15 minutes I felt I was important and my children were also very important. This project meant the world to me and my kids will love it!"
~An Incarcerated Mother
"Restoration in our families is made possible by kind people like you. Our kids look forward all year to their Christmas Message DVD and book!"
~Parent of Message Recipients
Volunteer Thoughts
One of the Messages Project's interns from Virginia Tech wrote about his first powerful experience helping with the filming of the Messages From Mom, an annual Mother's Day filming event. He said:
"I've always noticed that most people react the same way when in the filmed situation. They fidget, forget what they want to say, freeze up, and have a difficult time ignoring the fact that the camera is simply a medium of communication. So, what makes this woman any different? First of all, she's serving a seven-year prison sentence. Secondly? Not much anything else.
She's a mother, separated from her child, but the child was too young when she left to understand why. Then, The Messages Project, Inc., gave this mother a chance to say the things she has long bottled up while trapped in the physical manifestation of her crime." Read more.