Carolyn LeCroy's award-winning book, A Parent's Message: An Interactive Program Supporting Parent-Child Bond, has been recognized yet again as the top of its class. The book has been given a gold medal in the 2014 Florida Authors & Publishers Association (FAPA) Annual President's Book Awards. Our workbook, which is designed to assist children of incarcerated parents in maintaining family bonds, was nominated in the Education Division.
For a complete list of Winners, click here. To order a copy of the book, click here.
Congratulations to Carolyn and her entire publishing team!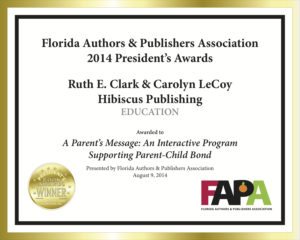 About Florida Authors & Publishers Association
The Florida Authors & Publishers Association, Inc., was originally organized in 1983 (then known as the Florida Publishers Group) by Betty Wright (Rainbow Books, Inc.) to provide Florida's growing group of book publishers with an opportunity for education and networking and to provide its members with a clearinghouse for publishing information. FPG became FPA (Florida Publishers Association) and began with only six members. In 2012 FPA expanded the name to FAPA (Florida Authors & Publishers Association) to include a steadily increasing number of authors within the organization.
Florida Authors & Publishers Association, Inc. (FAPA) is dedicated to providing the highest quality of information, resources, and professional development to members and others interested in the writing and publishing profession in the state of Florida. FAPA is a non-profit 501(c)(3) organization and is affiliated with the following national publishing organizations: IBPA (Independent Book Publishers Association), AAP (Association of American Publishers), and APSS (Association of Publishers for Small Sales).